Hong Aik Engineering Pte Ltd has been founded in 2013. The company founder, Ms Chia Soei Fong and Mr Augustine Ong and supporting by Raymond Ng has ever since expanded the scope of services ranging from construction transportation to maintenance and service of heavy machineries like excavators, cranes and tipper trucks etc.
In 2015, the company had taken up several construction projects mainly involving structural steel works. And with the construction demand was in the rise, Hong Aik Engineering Pte Ltd has expanded to provide construction services and supports for our customers such as, Dragages, Hyundai, Backho, Exyte (M+W Group), HPC Builders, Lian Ho Lee, Newcon Builders, etc. The company is currently having several ongoing ERSS work subcontract for HDB and private development projects in multiple regions of Singapore, and Demolition works subcontract for BCA Academy.
In addition, the company also participated in some government open tenders.
Hong Aik Engineering Pte Ltd has expanded its business in construction industry, with the following services:
Earth Retaining Structural System (ERSS)
Earth Moving
Drainage work, Deep Foundation (Bored Piling and Micro Piling works)
Demolition works
General Civil Engineering works.
OUR VISION
To provide one-stop solutions for our clients.
OUR MISSION
To establish long-term client relationships and to provide best level of service based on safety, reliability, trust, quality and efficiency.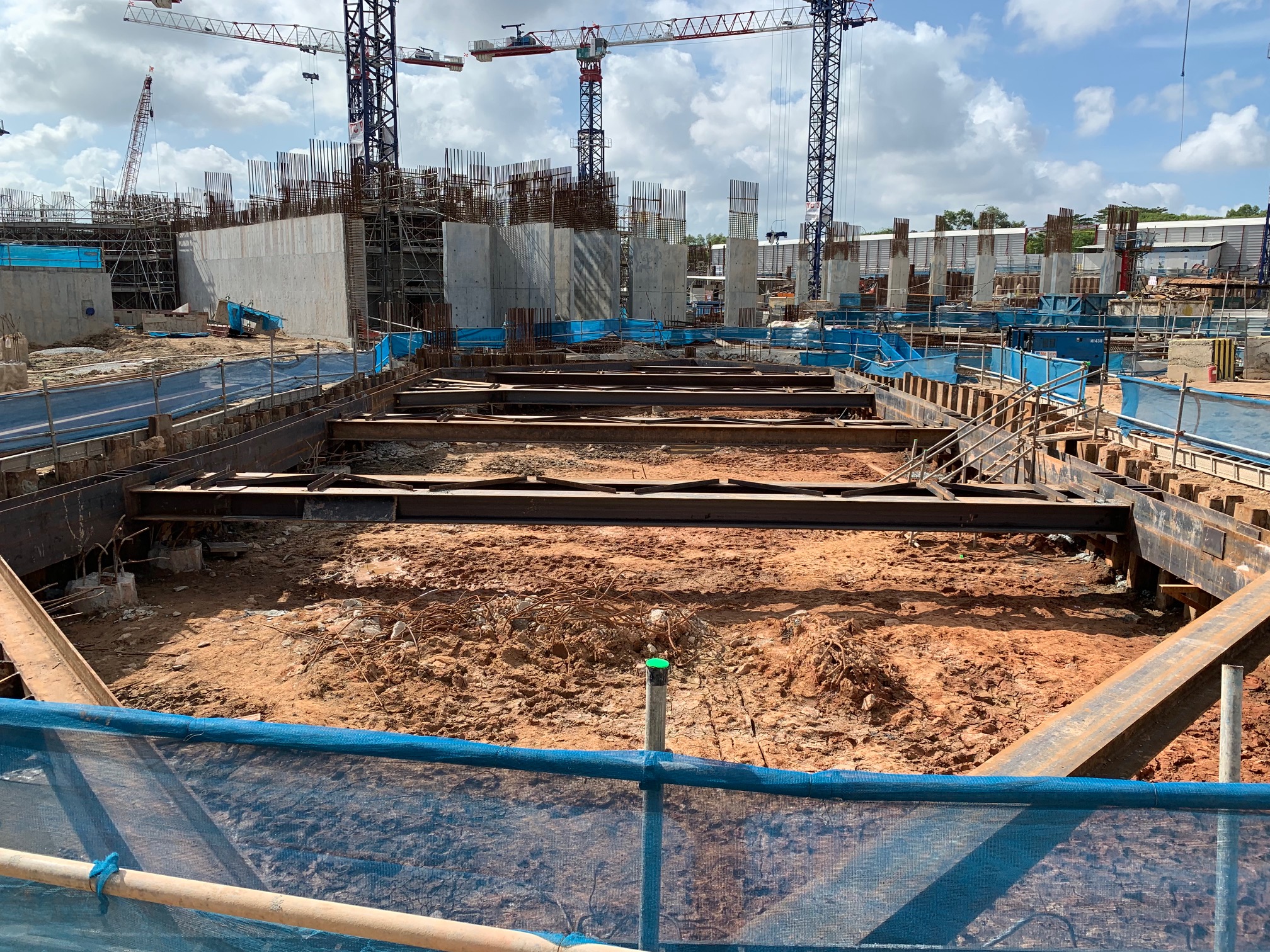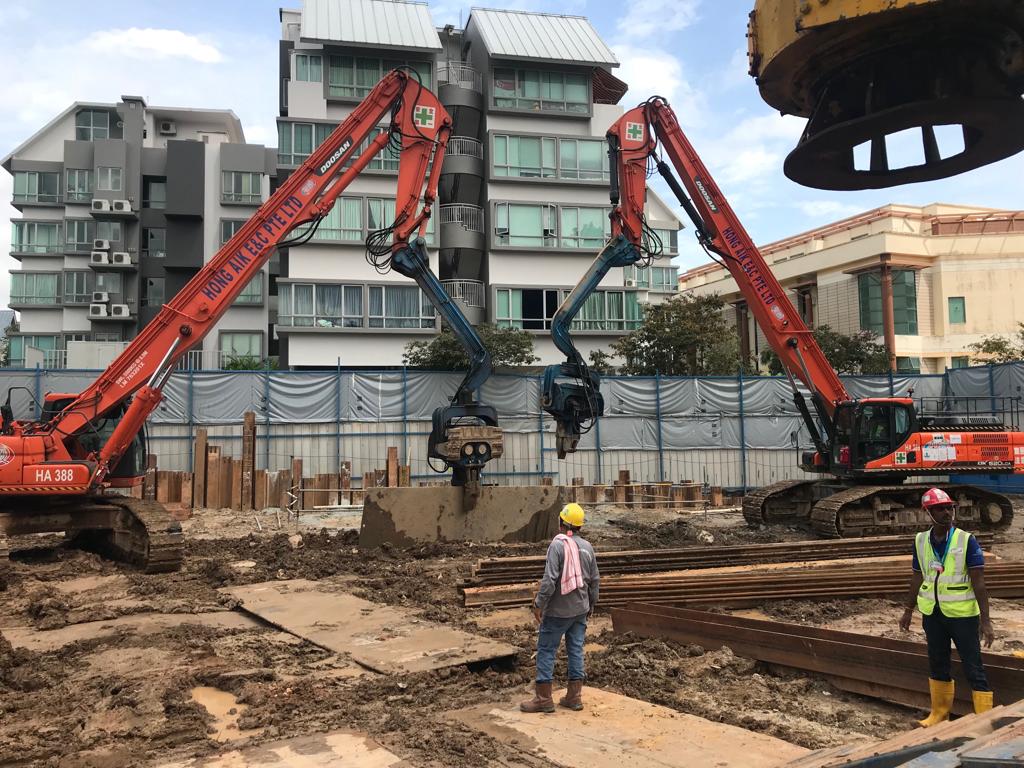 PROFESSIONALS
We are continuously recruiting experienced professionals to increase and improve the level of satisfaction in the works performed. Our professionals had involved in various projects, such as
Eco-Link @ BKE
Improvement Works at Geylang River (Phase 2),
Proposed Sewers in North Woodlands Area (Package B) – Contract 1
Thomson-East Coast Line Contract T312
32-Storey Shopping/Office Development with 3 Basement Carpark Excavation
Woodlands Square Development with Basement Carpark Excavation
Our workforces are well equipped with necessary skill sets for our services.
COMMITMENTS
We always believe in providing our best level of service to all valued customers / clients.
We inspire good safety and environmental culture within the organisation.
DIRECTORS' PORTFOLIO:
Mr Raymond Ng has more than 20 years' experience in construction industry mainly involving the following project:
Project Experience:
Excavation work in C482
Excavation work in Sentosa Integrated Resort
Excavation work in Marina Bay Sand
Strutting & Deep Excavation work in C485
ERSS, Sheet/Soldiers pile works in Punggol East C48
ERSS work in Micron at Woodlands
ERSS & Excavation work in JLB
Earthworks at Jing Shan Primary School
Demolition work at BCA Academy
Mr Augustine Ong is the Advisor for our civil department and he is also running a family business with more than 20 years' experience "OCW insurance brokers Pte Ltd", which dealing with projects bond under the government and public sector.
Completed and On-Going Projects Track Record
S/N
Project Title
Location
Commencement Date
Completion Date
Project Status
Owner / Developer
Main Contractor
1
Proposed Design & Build (D&B) For The Phase 2 Intensification Works In BCA Academy – Demolition Of Blocks D & E And Proposed Erection Of A 7 Storey ZEB Building And 16 Storey SLEB Building With A Basement Carpark And Rock Storages at 200 Braddell Road, Singapore 579700
BCA Academy
Mar-2019
–
In Progress
BCA Academy
Dragages Singapore Pte Ltd
2
Proposed Additions and Alterations To Existing 4‐Storey Jing Shan Primary School And Erection Of A 4‐Storey Indoor Sports Hall Block With Ancillary Rooms on Lot 17911C MK 18 at Ang Mo Kio Street 52 Singapore 569228 (Ang Mo Kio Planning Area)
Ang Mo Kio Street 52
Mar-2019
–
In Progress
Ministry of Education
Newcon Builders Pte Ltd
3
Punggol East Contract 48 & Common Green – Proposed Public Housing Development Comprising 7 Blocks Of 18/14/8/6‐Storey Residential Building (Total 1014 Units) With 1 Level Of Basement Car Parks, Commercial, Community Facilities, ESS, Precinct Pavilions
Punggol East / Punggol Drive
Jul-2018
–
In Progress
HDB
Lian Ho Lee Construction Pte Ltd
4
Proposed Two Blocks Of 5 Storeys Residential Apartment (49 Units) With Basement Carpark, Swimming Pool And Communal Facilities On Lot 99060m Mk31 At Jalan Loyang Besar (Pasir Ris Planning Area)
Jalan Loyang Besar
Dec-2018
–
In Progress
Sustained Land Pte Ltd
Newcon Builders Pte Ltd
Nov-2018
–
In Progress
5
Proposed Erection of a 3‐Storey Envelope Control Semi‐Detached Dwelling House With an Attic and Basement on Lot 03559A MK05 at 25 Kismis Avenue
Kismis Avenue
Oct-2018
–
In Progress
Soon Tiong Hai
AMCE Group Pte Ltd
6
Proposed Erection of 3‐Storey Fab Production Building, 6‐Storey Probe Building with Multi‐Storey Carpark, 2‐Storey Central Utility Plant (CUP) Buildings with a Basement, Single Storey Bulk Specialty North Coast Drive / North Coast Avenue
North Coast Drive / North Coast Avenue
Mar-2018
Dec-2018
In Progress
Micron
Tong Bee Construction Pte Ltd
7
Changi East Land Reclamation Work
Changi East
Feb-2018
Feb-2018
Completed
Changi Airport Group
BlackHo (S) Pte Ltd
8
Changi East Land Reclamation Work
Changi East
Aug-2018
Nov-2018
Completed
Changi Airport Group
Hyundai Engineering & Construction Co. Ltd